Back to all posts
Posted on
St Patrick's Travel Fundraiser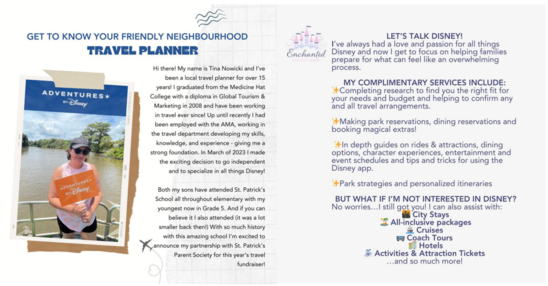 ✨St. Patrick's Travel Fundraiser✨ 
If you've been dreaming of travel or are considering planning a trip we've partnered with Tina with Enchanted Vacations in support of Parent Council. 
HOW IT WORKS: 
For every trip booked, Tina will donate a portion of her earnings back to Parent Council! Simply provide the code: ENCHANTEDSTPAT 
Be sure to share this code with family and friends - even if they don't attend the school. As long as the code is referenced it counts! 
*This is not to take away from other travel planners you currently work with or for those who prefer to plan themselves. But for those that don't know where to start and need some assistance - Tina is a great resource! And it's a great way to support Parent Council at the same time!
Click here for more information