Back to all posts
Posted on
Register today! PD Day Childcare 2022-2023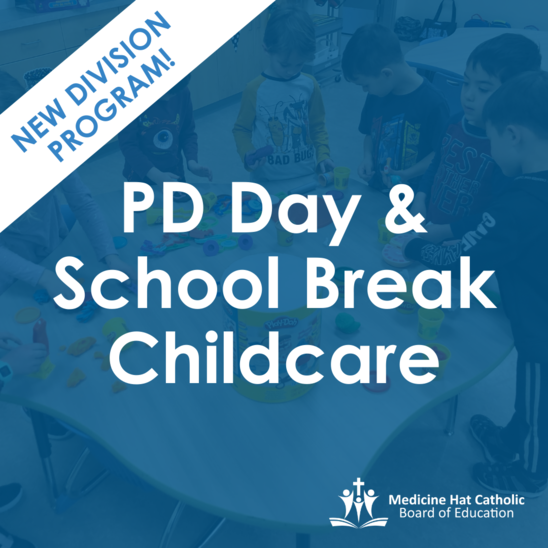 MHCBE K-6 PD Day Childcare program launching this fall!
After careful consideration and consultation with division parent groups, MHCBE is thrilled to offer a new program to convenience division families. PD Day and School Break Childcare will be offered for students enrolled in Kindergarten to Grade 6 beginning in the 2022-2023 school year!
When? Division PD Days and School Breaks.
Where? School location(s) to be determined based on enrollment numbers.
Who is eligible to attend? Students K-6 enrolled in a Medicine Hat Catholic School.
Cost? $50.00 per day per child per day.
When can I register? Pre-registration is now open!
Pre-Registration Information:
In order to sufficiently staff and prepare for the launch of the PD Day Childcare Program, we are requiring families to pre-register their children if they are interested in attending one or more days in the 2022-2023 school year.
In the Pre-Registration Form parents will be given the options to tentatively select the dates they think your child will be attending, choose an ideal location, and be added to our registration list. 
Following the submission of this form, a division staff member will follow up with each family directly. This staff member will provide parents with a detailed registration form for their child(ren) as well as provide details regarding payment information.
Helpful links:
Questions? Email earlylearning@mhcbe.ab.ca or call the Catholic School Board Office at 403-527-2292