Back to all posts
Posted on
Changes to School Bus Routes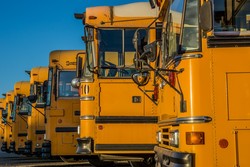 Changes to School Bus Routes/Bus Stops & Pick Up Times

Effective Monday, September 17, 2018, your child's School Bus Pick-Up
Time/Drop-Off Time/Bus Route may have been modified from the start of the
school year. Southland Transportation modifies its scheduling after the first
two weeks of school.

Parents are asked to check the Southland Transportation website for details. As always, children are encouraged to arrive at bus stops five minutes prior to the scheduled pick up time. For more
information, contact Southland Transportation at 403.526.4655, or the Catholic
School Board Office at 403.502.8351.
Medicine Hat Catholic Board of Education continues to work closely
with Southland Transportation to create a positive school bus experience for all students.

Please note: Updated Bus Routes/Bus Stops/Pick-Up/Drop-Off Time Maps will be posted on the
Southland Transportation website on Friday, September 14, 2018 4:00 p.m.