Back to all posts
Posted on
Meet our new Vice-Principal!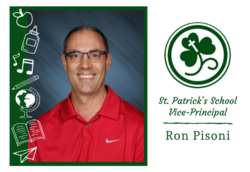 We are thrilled to welcome Ron Pisoni as the new Vice-Principal of St. Patrick's School starting in the fall. Mr. Pisoni would like to introduce himself to our school community.
I am very excited to be the new vice-principal of St. Patrick's School. I was born and raised in Medicine Hat and did my schooling with MHCBE. Actually, I went to St. Patrick's school in Elementary when it was located on Riverside, close to St. Patrick's church. One piece of information you might not know about St. Patrick's is that your library is the old gymnasium. After I graduated from the University of Lethbridge in 1992 I taught at St. Mary's, Monsignor McCoy, and Irvine school. After seven years at Irvine I went to St. Mary's Junior High school for 2 years and then for the past 16 years I have been a teacher at Notre Dame Academy where I taught mostly Science and Math. I have been married for 26 years and have 2 daughters both in university. Tiana is in pharmacy and Kalista is in education. My wife, Michelle, is an online teacher for ADLC. I am looking forward to starting this new chapter in my career, teaching in an Elementary school, and forging new relationships with students, staff, and parents. 
God Bless!
Ron Pisoni